Mindfully Curated: 8 Great Produce Farms and Vineyards around Khao Yai and Nakhon Ratchasima
Meet our friends—farmers, growers, vintners. These hard-working locals produce some of Thailand's best fruits,vegetables, wine, and food products in Khao Yai and Nakhon Ratchasima. Here's how their products elevate our food to the next level.
Sweet & Green Farm
We are absolutely convinced that eating local, organic and ethical is the best way to enjoy food. Sweet & Green Farm produces a variety of fruits, herbs, and vegetables such as kale, pumpkin, and tomato that go into our salads and other healthy dishes. Sweet & Green grows and markets their products responsibly through the use of an eco-friendly waste management system and green packaging.
108 Thanaratch Rd.
Open daily 8am-5.30pm
Tel: 088-626-4135
Klong Phai Farm
There are many reasons why this farm has become popular in Thailand's restaurant industry, not the least of which is its pasture-raised poultry that are grown without hormones and antibiotics. Experience the full flavors of Klong Phai Farm's produce in our roasted chicken and our egg dishes.
Dairy Home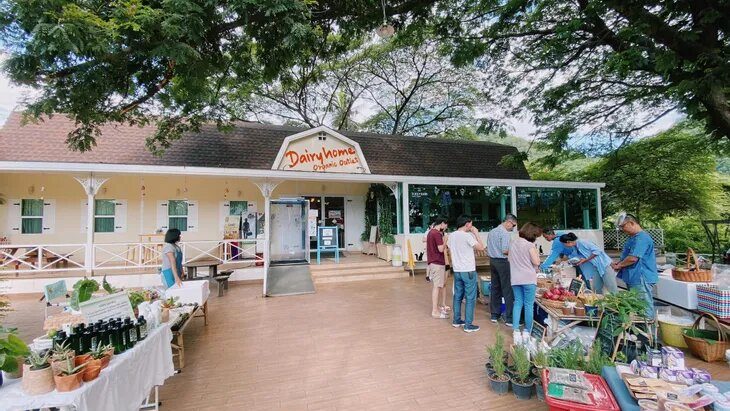 You may have heard of Dairy Home, whose selection of yogurts, cheeses, and ice cream are available in our menu. But are you familiar with their ethos? Dairy Home advocates respecting both people and nature. The dairy farm uses no antibiotics, chemical insecticide, chemical fertilizer, or any kind of growth hormones. They also engage in practices that are beneficial to the environment such as implementing a zero discharge system and generating energy from waste, just to name a few. We bet you love them more now, just like we do.
100 Mittraphap Rd.
Tel: 081-991-0271
Open Mon-Thu 9am-7.30pm, Fri-Sun 9am-8pm
Suwan Farm Sweet Corn
Support Suwan and you're basically supporting the farmers in the community as well. The farm, also known as National Corn and Sorghum Research Center, offers corn seeds that they developed together with Kasetsart University's Faculty of Agriculture, to local farmers to grow. Suwan Farm then purchases the corn at a fair and guaranteed price. Snack on these juicy roasted sweet corn in our resort.
298 Mittraphap Rd.
Tel: 061-558-5280
Open daily 8.30am-5.30pm
GranMonte
The cold climate and abundant soil of Khao Yai play huge roles in the region's wine industry. This "smart" technology-driven vineyard led by Nikki Lohitnavy, Thailand's first female winemaker, and the wines it produces have been recognized with many awards. Pair GranMonte's sophisticated, locally produced wines with our recommended dishes to know why its reds and whites deserve accolades.
52 Moo 9, Pansuk-Kudkla Rd.
Tel: 044-009-543, 044-009-544
PB Valley
One of the largest vineyards in the country, PB Valley grows a variety of grapes for wines like Tempranillo, Shiraz, Chenin Blanc, and Cabernet Sauvignon, all of which are produced using innovative winemaking technology. Ask for a wine pairing recommendation at our restaurant or try our Marasca ice cream sandwich, which comes with PB Valley Wine Sabayon cherry ice cream.
102 Moo 5, Phaya Yen
Tel: 085-481-1741
Evergreen
For years, this family-run farm has been producing amazing fruits like mulberry, which we add into our acai bowl. It's not just their produce that makes Evergreen such an inspiring partner, we are also impressed by how its owner is committed to helping and educating other farming communities.
Mu Si, Pak Chong
Tel: 081-790-1924
Open daily 10am-5pm
16 Brix Melon Farm
So maybe it's not a secret that 16 Brix Melon Farm cultivates succulent and fragrant fruits, whether it's rock melons or Japanese melons. You'll find their produce, which are grown organically and hydroponically, in our breakfast bowls. Pair them with local ham and selected wines while drinking in views of the starry sky and enjoying the evening breeze.
55 Sarika Rd., Mueng Nakhon Nayok
Tel: 086-520-2212
Open Sat-Sun 8am-5pm